Alan Gurwitt
From MEpedia, a crowd-sourced encyclopedia of ME and CFS science and history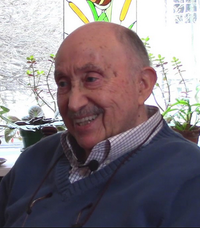 Alan R. Gurwitt, MD, retired adult and child psychiatrist and psychoanalyst from Massachusetts, US, and Distinguished Fellow of the American Psychiatric Association; formerly an Associate Clinical Professor, Yale Child Study Center and University of Connecticut School of Medicine.[1][2]
He served as the President of the Massachusetts CFIDS/ME & FM Association from 1988 to 1992,[2] and on the Guidelines Committee of the International Association for Chronic Fatigue Syndrome/Myalgic Encephalomyelitis.[3]
Dr. Gurwitt developed a mild case of ME/CFS in August 1986 after two episodes of exposure to toxic chemicals used in horticulture[2] and a bout of flu.[4]
M.D., Yale School of Medicine
Dr. Gurwitt was a member of the writing committee for several primers and manuals, including:
2006, A Pediatric Case Definition for Myalgic Encephalomyelitis and Chronic Fatigue Syndrome[5] - (Full Text)
2014, ME/CFS: A Primer For Clinical Practitioners sponsored by the International Association for Chronic Fatigue Syndrome/Myalgic Encephalomyelitis. Dr.Fred Friedberg chaired the committee. Other Primer writing committee members include: Rosemary Underhill, MB, BS; Lucinda Bateman, MD; Alison Bested, MD; Todd Davenport, DPT; Kenneth Friedman, PhD; Alan Gurwitt, MD; Leonard Jason, PhD; Charles Lapp, MD; Staci Stevens, MA; and Rosamund Vallings, MB, BS. Anthony Komaroff, MD wrote the foreword to the Primer.[6] - (Full Text)
2017,

Myalgic Encephalomyelitis

/

Chronic Fatigue Syndrome

Diagnosis and Management in Young People: A Primer by Peter C. Rowe, Rosemary A. Underhill, Kenneth J. Friedman, Alan Gurwitt, Marvin S. Medow, Malcolm S. Schwartz, Nigel Speight, Julian M. Stewart, Rosamund Vallings and Katherine S. Rowe[7] - (Full Text)
9 Sept 2019, Dr Gurwitt calls for retraction of the paper in the BMJ about the Lightning Process Study writing that the "original findings was grossly inappropriate"[10] - (Letter)
19 Sep 2007, Fighting Back Against

Chronic Fatigue

in Everyday Health - (Article)