Charles Lapp
From MEpedia, a crowd-sourced encyclopedia of ME and CFS science and history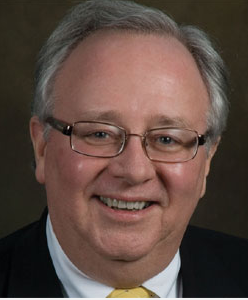 Charles W. Lapp, MD, is a retired Internal Medicine physician and the Medical Director Emeritus at Hunter-Hopkins Center in Charlotte, North Carolina, US, which has a practice specializing in ME/CFS, fibromyalgia, and related conditions.[1] Earlier in his career, he practiced family medicine and pediatrics in Raleigh, NC.[2] He became interested in ME/CFS following an outbreak of three small epidemics of a chronic fatiguing illness in the Raleigh area. One of these outbreaks was among all the members of the N.C. Symphony Orchestra.[3]
From 1992 to 1995 Dr. Lapp acted as Medical Director of the Cheney Clinic in Charlotte, in collaboration with Dr. Paul Cheney. In August 1995, Dr. Lapp opened the Hunter-Hopkins Center in Charlotte, North Carolina where he practiced until his retirement in 2018.[2] His center does testing for disability insurance such as the two-day cardiopulmonary exercise test (2-day CPET) and a computer-assisted cognitive function test.
Following Dr. Lapp's retirement in 2018, the Hunter-Hopkins Center director became Dr. Vincent F. Hillman with Dr. Laura Black continuing on staff.[2]
Dr. Lapp serves on the editorial board of the journal, Fatigue: Biomedicine, Health & Behavior, published on behalf of the IACFS/ME.[4]
IOM

Committee on Diagnostic Criteria for ME/

CFS

[

edit

|

edit source

]
Dr Lapp was a reviewer for the 2015 report produced by the Institute of Medicine's Committee on Diagnostic Criteria for Myalgic Encephalomyelitis/Chronic Fatigue Syndrome.[6]
The Hunter-Hopkins Center was one of two clinical sites participating in the Hemispherx Biopharma 511/open label Ampligen trials to gain FDA approval, which was ultimately unsuccessful. The Ampligen phase III trial results were published in 2012.[8][9] Ampligen, a brand name for Rintatolimod, is an IV medication, and was given twice weekly at the Hunter-Hopkins infusion room during the trial. The Hunter-Hopkins Center is currently one of four clinics that can administer Ampligen in the US.[9]
Dr Lapp retired in 2018, other physicians with expertise in ME/CFS can be contacted at the clinic he founded.
Hunter-Hopkins Center
7421 Carmel Executive Park Dr.
Charlotte, North Carolina 28226
Telephone: (704) 543-9692
Email: drlapp@drlapp.net
Three open letters to the editor of The Lancet urged the editor to commission a fully independent review of the PACE trial, which the journal had published in 2011. In 2016, Dr. Lapp, along with 42 colleagues in the ME/CFS field, signed the second letter.[22] In 2018, Dr. Lapp, with more than 100 colleagues in the ME/CFS field, signed the third letter.[23]