Irma Rey
From MEpedia, a crowd-sourced encyclopedia of ME and CFS science and history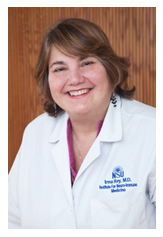 Dr. Irma Rey is a Internal Medicine and Allergy/Immunology physician who is one of the founding members of the Institute for Neuro Immune Medicine (INIM) at Nova Southeastern University, in Miami and Fort Lauderdale, Florida. She is the Director of Medical Education at the INIM as well as an Assistant Professor at the College of Osteopathic Medicine, Nova Southeastern University.[1]
Areas of specialty include ME/CFS, fibromyalgia, Gulf War Illness, HIV/AIDS, autism spectrum disorder, Lyme disease and other neuro-immune diseases.[2]
In 2016, Dr. Rey and Dr. Nancy Klimas and several other researchers studied patients who developed gastroparesis following a viral history of flu-like symptoms or gastroenteritis. Nine at of the eleven patients with Idiopathic Gastroparesis studied (82 %) had active enterovirus infection on gastric biopsies. The study concluded that "antiviral and/or immune therapies against

enterovirus

seem to be favorable, as most of our patients had resolution of their gastroparesis symptoms after treatment. This is the first study to identify

enterovirus

as a possible infectious

etiology

of idiopathic gastroparesis.[3]
In 2015 the ME/CFS Gene Study began, with Irma Ray as Principle Investigator and Nancy Klimas as Co-investigator. This is an international study involving creating a database of gene results for people with ME/CFS and Healthy Controls.[4]
ME/

CFS

Gene Study - Institute for Neuroimmune Medicine, Nova Southeastern University