Herpesviruses
From MEpedia, a crowd-sourced encyclopedia of ME and CFS science and history
Herpesviruses are a family of DNA viruses, with the eight herpesviruses having very high prevalence rates in humans being known as human herpesviruses.[1] Once someone is infected with a herpesvirus, the infection is life-long; many herpesviruses have treatments that can suppress any symptoms but there is no cure.[2] While generally, immunocompetent hosts are able to keep the virus in a latent state and remain asymptomatic, human herpesviruses can cause symptoms if they reactivate. They can also increase the risk of autoimmune disease and cancer.[1][3]
Viruses in the herpesvirus family that can infect humans include:
More than 90% of adults have been infected with at least one herpesvirus.
After the initial infection, herpesvirus usually remain latent for life (they are not curable), and may be reactivated later.[6]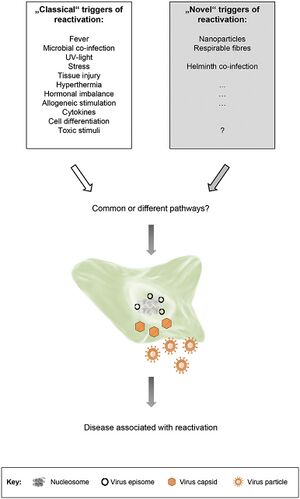 Reactivation of herpesviruses do not usually cause disease,[7] although some may cause disease,[4] for example:
reactivation of latent varicella-zoster virus may cause shingles (varicella zoster), typically in adults, with the virus typically being caught in childhood and resulting in chickenpox before becoming latent, and

CMV

pneumonia may be caused by

CMV

reactivation, which is most likely in immunosuppressed people, especially bone marrow transplant recipients and people with HIV.[4]
HSV-1 has been implicated in Alzheimer's, although this does not mean it is the only cause.[8]
Several of the herpesviruses have transactivating potential, that is, they can cause the increased rate of gene expression of other viruses.[6]
It is unclear whether herpesviruses associated with Chronic fatigue syndrome play an etiological role or are "bystanders" – opportunistic reactivations under a state of immune dysregulation. In the 1984 Incline Village chronic fatigue syndrome outbreak, Gary Holmes found that patients with what his team hypothesized was chronic Epstein-Barr had elevated antibody titers to Epstein-Barr virus, cytomegalovirus, herpes simplex and measles viruses than age-matched controls.[9] However, the study cohort was defined as patients who had experienced excessive fatigue between January 1 and September 15. 
A prospective study of 250 primary care patients revealed a higher prevalence of chronic fatigue syndrome after infectious mononucleosis (glandular fever) when compared to an ordinary upper respiratory tract infection.[10] Anti-early antigen titers to Epstein-Barr virus were elevated in CFS patients and associated with worse symptoms.[11]
2019, "Novel" Triggers of Herpesvirus Reactivation and Their Potential Health Relevance[7] - (Full text)
opinion article
"In this review, we provide evidence from animal and human studies of the Epstein-Barr virus as a prototype, supporting the notion that herpesviruses dUTPases are a family of proteins with unique immunoregulatory functions that can alter the inflammatory microenvironment and thus exacerbate the immune pathology of herpesvirus-related diseases including myalgic encephalomyelitis/chronic fatigue syndrome, autoimmune diseases, and cancer...[we] approached the possibility that two or more herpesviruses may act synergistically and that virus-encoded proteins, rather than the viruses themselves, may act as drivers of or contribute to the pathophysiological alterations observed in a subset of patients with ME/CFS."[12]
↑ 1.0 1.1 White, Douglas W.; Beard, R. Suzanne; Barton, Erik S. (January 2012). "Immune Modulation During Latent Herpesvirus Infection". Immunological reviews. 245 (1): 189–208. doi:10.1111/j.1600-065X.2011.01074.x. ISSN 0105-2896. PMC 3243940. PMID 22168421.
↑ Dong, Haisi; Wang, Zeyu; Zhao, Daqing; Leng, Xiangyang; Zhao, Yicheng (September 1, 2021). "Antiviral strategies targeting herpesviruses". Journal of Virus Eradication. 7 (3): 100047. doi:10.1016/j.jve.2021.100047. ISSN 2055-6640. PMC 8187247. PMID 34141443.
↑ "Viruses that can lead to cancer". cancer.org. Retrieved

August 20,

2020.
↑ Davison, Andrew J. (2007). "1 Overview of classification". In Arvin, Ann; Campadelli-Fiume, Gabriella; Mocarski, Edward; Moore, Patrick S.; Roizman, Bernard; Whitley, Richard; Yamanishi, Koichi (eds.). Overview of classification. Cambridge: Cambridge University Press. ISBN 978-0-521-82714-0. PMID 21348096.
↑ 6.0 6.1 De Bolle, Leen; Naesens, Lieve (January 2005), "Update on Human Herpesvirus 6 Biology, Clinical Features, and Therapy", Clin Microbiol Rev, 8 (1): 217–245, doi:10.1128/CMR.18.1.217-245.200
↑ 7.0 7.1 7.2 Stoeger, Tobias; Adler, Heiko (2019). "

"

Novel" Triggers of Herpesvirus Reactivation and Their Potential Health Relevance". Frontiers in Microbiology. 9. doi:10.3389/fmicb.2018.03207. ISSN 1664-302X. PMC 6330347. PMID 30666238.
↑ Experts Say There's a Herpes-Alzheimer's Link, Time, March 10, 2016
↑ Homes, Gary P (May 1, 1987). "A Cluster of Patients With a Chronic Mononucleosis-like Syndrome Is Epstein-Barr Virus the Cause?". Journal of the American Medical Association. 257: 2297–2302.
↑ White, P.D.; Thomas, J.M.; Amess, J.; Crawford, D.H.; Grover, S.A.; Kangro, H.O.; Clare, A.W. (December 1998). "Incidence, risk and prognosis of acute and chronic fatigue syndromes and psychiatric disorders after glandular fever". The British Journal of Psychiatry: The Journal of Mental Science. 173: 475–481. ISSN 0007-1250. PMID 9926075.
↑ Schmaling, K.B.; Jones, J.F. (January 1996). "MMPI profiles of patients with chronic fatigue syndrome". Journal of

Psychosomatic

Research. 40 (1): 67–74. ISSN 0022-3999. PMID 8730646.
↑ Williams, Marshall V.; Cox, Brandon; Ariza, Maria Eugenia (2017), "Herpesviruses dUTPases: A New Family of Pathogen-Associated Molecular Pattern (PAMP) Proteins with Implications for Human Disease", Pathogens, 6 (1): 2, doi:10.3390/pathogens6010002