Neuroinflammation
From MEpedia, a crowd-sourced encyclopedia of ME and CFS science and history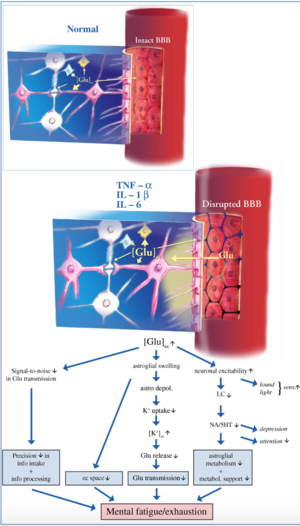 Neuroinflammation is a term used to describe activation of the resident immune cells in the central nervous system (CNS).[1][2] This contrasts with classical Greco-Roman inflammation, which was originally defined as swelling, redness, heat, and pain, but has come to mean infiltration of tissues by blood-borne immune cells. Unlike classical inflammation, neuroinflammation does not imply infiltration of tissues by blood-borne immune cells. As such, the term "neuroinflammation" must not be confused with the term "encephalitis", which implies classical inflammation. Because of this distinction, the relatively recent term "neuroinflammation" has generated considerable confusion in the scientific community.[3]
The immune cells activated in neuroinflammation are the tissue-resident macrophages of the CNS, which, for historical reasons, are called microglia.[1][4] Like other macrophages, microglia fight infections and repair tissue damage.[5] In the case of minor infections or minor tissue damage, microglia can often resolve the situation on their own. In more serious situations, the microglia will secrete cytokines to attract help from blood-borne immune cells.
Diseases associated with neuroinflammation
[
edit
|
edit source
]
Neuroinflammation is a symptom of many diseases and thought to be a part of ME. Alzheimer's disease, Parkinson's disease, and multiple sclerosis are illnesses in which the brain experiences decline in structure and function, and also where it shows clear signs of neuroinflammation. Inflammation of the brain is linked to activated microglia, cytokine presence in the brain,[6] and changes in the neurochemicals produced by the brain.[7] These effects also occur in ME which is why researchers are searching to more strongly show neuroinflammation in these patients.
The blood brain barrier (BBB), a membrane that separates the brain from the rest of the body, may become compromised in ME patients. If there are cytokines circulating in the bloodstream, they may get into the brain through opened sections of the BBB[8]. While this initially starts as a normal brain response so that the brain can get the body back to normal, healthy functioning, this process can be predisposed to dysfunction and activation may be sustained longer than usual.
Microglia are cells that can act as the brain's primary immune response. If cytokines or immune cells from outside the CNS enter the brain through the BBB, the microglia will respond to the immune threat and attempt to clear the infiltrators out. However, this process increases neuron activation and the release of more cytokines potentially leading to a cycle of neuroinflammation[8].
One study used a radioligand, a tracer that lights up in the presence of a specific molecule, in a positron emission tomography (PET) scanner in search of activated microglia in ME patients' brains. Activated microglia cells are believed to be correlated to neuroinflammation. Increased radioligand presence in ME subjects' brains was observed; however, further analysis of these data and replication of their results are needed[9].
Oxidative and nitrosative stress

[

edit

|

edit source

]
The oxidative and nitrosative stress pathway or O&NS pathway results in tissue damage which could lead to neuroimflammation in ME/CFS.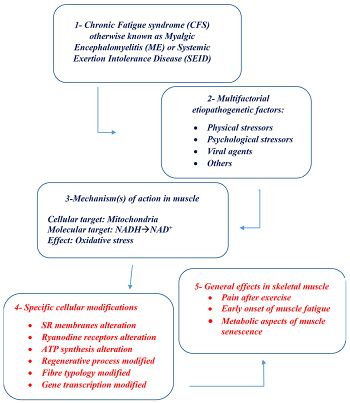 Neuroinflammation may also be related to excess oxygen and nitrogen molecules in tissues.  This can cause oxidative or nitrosative stress (O&NS), leading to tissue damage. The O&NS pathway helps maintain the blood brain barrier, an important membrane keeping the brain protected from harmful substances present in the blood. When the pathway is dysfunctional, the blood-brain barrier becomes less effective at keeping out particles. Breakdown of this barrier could lead to immune cells entering the brain and trigger an immune response, leading to neuroinflammation. Researchers propose a link between the dysfunction of brain tissues in ME/CFS and the breakdown of the oxidative and nitrosative stress pathway.[8]
Activation of cyclical neuroinflammation: A self-perpetuating cycle
[
edit
|
edit source
]
When a patient gets an infection, the body attempts to return homeostasis. The immune system has regulatory structures called toll-like receptors (TLRs). High amounts of stress or a previous injury can predispose an individual's TLRs to be more sensitive, releasing inflammatory molecules more readily in response to an immune stressor.[11] One of the downstream pathways of TLRs, the oxidative and nitrosative stress pathway (O&NS) can get activated. If this pathway is overstimulated, the body will produce a larger-scale response in an effort to return to normal.[12] In this attempt, a chemical called damage-associated molecular patterns (DAMPs) triggers the release of more inflammatory molecules, some of which activate the TLRs[13] (Morris et al., 2015). The process of activation from TLRs to the O&NS pathway to the production of more inflammatory molecules then becomes a cycle.[14]
Possible neurological biomarkers of ME
[
edit
|
edit source
]
When the brain is going through challenges such as neuroinflammation or neurodegeneration, several chemicals become dysregulated. These changes are able to be recorded using a special function of magnetic resonance (MR) scanners. Because each chemical has a distinct molecular structure, the magnetic field formed by the scanner will bounce off of each chemical in unique ways.  This allows the technician to measure the amounts of these chemicals in the brain.
Several neurochemicals have been studied in relation to ME patients. Myo-inositol is thought to be involved in astrocyte function (Albrecht et al. 2016) and trended to be higher in ME patients compared to controls.[15]
N-acetylacetate (NAA) shows neuron density, which has been found in other neurological disorders[7] and has been shown to be lower in ME patients,[14][15] but this was not found in all studies.[16][17]
Choline is linked to activation of glia, loss of energy and expression of macrophages in the brain[7] and has been shown to change compared to controls.[14][15][17] [18]
Lactate increases when more energy is being expended and has been shown to be higher than controls,[19][20][21][22] and significantly differs from lactate levels in people with psychological disorders.[19][22] Both ME patients and fibromyalgia patients were found to have similar levels of elevated lactate, so more tests would be needed to differentiate the two.[21]
Though contrasts were found between ME people and controls in many of these biomarker studies, researchers are not sure what the changes mean specifically because the metabolites are used in multiple brain processes. Furthermore, the results shown by these papers has not been largely replicated. However, if repeated, these biomarkers could potentially become an objective measure for diagnosing ME.
Younger's new approach looked at the entire brain and found signs of inflammation almost everywhere. When asked what could cause that, Younger said that any neurodegenerative/ neuroinflammatory disorder like MS or a severe brain injury that tweaks the microglia (immune cells in the brain) enough to produce a sustained period of inflammation, burns up the oxygen in the system. Once that happens, the cells resort to anaerobic metabolism and lactate builds up just as it does in the muscles during exercise.