Lubov Nathanson
From MEpedia, a crowd-sourced encyclopedia of ME and CFS science and history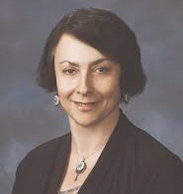 Lubov Nathanson, PhD, is an assistant professor in the College of Osteopathic Medicine's Institute for Neuro-Immune Medicine (INIM), Nova Southeastern University, Florida, US.[1]
Dr Nathanson research interests include exploring altered genetic expression in the immune cells of ME/CFS patients and the potential role of DNA methylation, an epigenetic process that can turn genes on or off, in ME/CFS.
A team comprised of Dr. Elisa Oltra of Universidad Católica de Valencia, Spain, and Drs. Lubov Nathanson, Vladimir Beljanski and Malav Suchin Trivedi of Nova Southeastern University, US, were awarded a 2017 Ramsay Award grant from the Solve ME/CFS Initiative for researching the effect of ME/CFS on epigenetic regulation in specific immune cell types.[2]
ME/

CFS

Common Data Element (CDE) Project

[

edit

|

edit source

]
Member of the Baseline/Covariate Working Group, the Neurologic/Cognitive/CNS Imaging Working Group, and the Biomarkers Working Group of the Myalgic Encephalomyelitis/Chronic Fatigue Syndrome Common Data Element (CDE) Project sponsored by the National Institute of Neurological Disorders and Stroke and the Centers for Disease Control and Prevention.[3] This working group reviewed data collection instruments widely used by investigators in the ME/CFS field, and either recommended their use unchanged or (more often) proposed some modifications.[4]
2015, Using gene expression signatures to identify novel treatment strategies in gulf war illness[5] - (Full text)
2018, Identification of Myalgic Encephalomyelitis/Chronic Fatigue Syndrome-associated DNA methylation patterns[6] - (Full Text)
2019, Treatment Avenues in

Myalgic Encephalomyelitis

/

Chronic Fatigue Syndrome

: A Split-gender Pharmacogenomic Study of Gene-expression Modules[7] - (Abstract)
2019, Epigenetic Components of

Myalgic Encephalomyelitis

/

Chronic Fatigue Syndrome

Uncover Potential Transposable Element Activation[8] - (Full text)
2019, Genetic Predisposition for

Myalgic Encephalomyelitis

/

Chronic Fatigue Syndrome

: A Pilot Study[9] - (Abstract)
2020, Assessing diagnostic value of microRNAs from peripheral blood mononuclear cells and

extracellular vesicles

in

Myalgic Encephalomyelitis

/

Chronic Fatigue Syndrome

[10] - (Full text)
2020, Unravelling myalgic encephalomyelitis/chronic fatigue syndrome (ME/

CFS

): Gender‐specific changes in the microRNA expression profiling in ME/

CFS

[11] - (Full text)