Daniel Peterson
From MEpedia, a crowd-sourced encyclopedia of ME and CFS science and history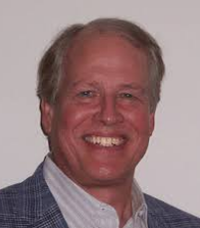 Daniel L. Peterson, MD, is a physician in Incline Village, Nevada specializing in myalgic encephalomyelitis/chronic fatigue syndrome (ME/CFS). He was at the epicenter of the 1984 Incline Village chronic fatigue syndrome outbreak[1] and continues to be a leader in treatment and research about ME/CFS, serving on Simmaron Research's Scientific Advisory Board and the Faculty of Health Sciences and Medicine at Griffith University in Queensland, Australia.[2]
He helped establish the Whittemore Peterson Institute (WPI) which was renamed in 2016 the Nevada Center for Biomedical Research.[3] He left in 2010 to return to private practice at Sierra Internal Medicine, Incline Village, Nevada.[4] In 2019, he joined the scientific advisory board of the Open Medicine Foundation.[5]
Dr. Peterson was the first physician to use Ampligen, an immunomodulator made by AIM ImmunoTech (formerly Hemispherx Biopharma), in the treatment for ME/CFS, using it on Nancy Kaiser, a very severe patient.[6] He has participated in every Ampligen trial since, up to the AMP-511, open label, cost-recovery trial available today.[7]
Several documentaries about myalgic encephalomyelitis/chronic fatigue syndrome (ME/CFS) have featured Dr. Peterson, including, I Remember Me and Forgotten Plague, and the news feature, Sick and Tired.
2003, Rudy Perpich Senior Lectureship Award, presented to a distinguished

CFS

/FM scientist, physician or healthcare worker awarded by IACFS/ME[8]
2015,

IOM

Committee on Diagnostic Criteria for ME/

CFS

- Dr Peterson was a reviewer for the 2015 report produced by the Institute of Medicine's Committee on Diagnostic Criteria for

Myalgic Encephalomyelitis

/

Chronic Fatigue Syndrome

.[10]
Invest in ME International ME Conference
[
edit
|
edit source
]
↑ "Dr. Dan Peterson (Sierra Internal Medicine, Incline Village, Nevada) - Health Rising". Health Rising. Retrieved

August 13,

2018.
↑ "Collaborators - Simmaron Research". Simmaron Research. Retrieved

August 13,

2018.
↑ "About Us". Nevada Center for Biomedical Research. Retrieved

April 13,

2022.
↑ "History of Changes for Study: NCT00215813 | Study of Ampligen in Chronic Fatigue Syndrome". ClinicalTrials.gov. April 8, 2010. Retrieved

April 13,

2020.
↑ "Daniel L. Peterson, MD". Open Medicine Foundation. Retrieved

April 1,

2019.
↑ "TREATING THE DISEASE, NOT THE SYMPTOMS: NCF'S RESEARCH MOVES CFIDS/ME ONE STEP CLOSER TO NEOPLASTIC DISEASE PROCESS". ncf-net.org. Retrieved

August 13,

2018.
↑ "Ampligen in Chronic Fatigue Syndrome". ClinicalTrials.gov. Retrieved

August 13,

2018.
↑ 8.0 8.1 "IACFS/ME Awardees". IACFS/ME. Retrieved

April 23,

2020.
↑ Carruthers, Bruce M.; Jain, Anil Kumar; De Meirleir, Kenny L.; Peterson, Daniel L.; Klimas, Nancy G.; Lerner, A. Martin; Bested, Alison C.; Flor-Henry, Pierre; Joshi, Pradip; Powles, AC Peter; Sherkey, Jeffrey; van de Sande, Marjorie (January 2003). "Myalgic Encephalomyelitis/Chronic Fatigue Syndrome". Journal of

Chronic Fatigue Syndrome

. 11 (1): 7–115. doi:10.1300/j092v11n01_02. ISSN 1057-3321.
↑ Institute of Medicine (2015). Beyond Myalgic Encephalomyelitis/Chronic Fatigue Syndrome: Redefining an Illness. Washington, DC: The National Academies Press. doi:10.17226/19012. ISBN 0309316898. PMID 25695122.
↑ Buchwald, Dedra; Cheney, Paul R.; Peterson, Daniel L.; Henry, Berch; Wormsley, Susan B.; Geiger, Ann; Ablashi, Dharam V.; Salahuddin, S. Zaki; Saxinger, Carl; Biddle, Royce; Kikinis, Ron; Jolesz, Ferenc A.; Folks, Thomas; Balachandran, N.; Peter, James B.; Gallo, Robert C.; Komaroff, Anthony L. (1992), "A chronic illness characterized by fatigue, neurologic and immunologic disorders, and active human herpesvirus type 6 infection", Annals of Internal Medicine, 116 (2): 103-113, PMID 1309285
↑ Levine, Paul H.; Jacobson, Steven; Pocinki, Alan G.; Cheney, Paul; Peterson, Daniel; Connelly, Roger R; Weil, R; Robinson, SM; Ablashi, Dharam V; Salahuddin, Sayeef Z; Pearson, GR; Hoover, R (1992), "Clinical, Epidemiologic, and Virologic Studies in Four Clusters of the

Chronic Fatigue Syndrome

", Archives of Internal Medicine, 152 (8): 1611-1616, doi:10.1001/archinte.1992.00400200049009
↑ Strayer, DR; Carter, W; Strauss, KI; Brodsky, I; Suhadolnik, R; Ablashi, D; Henry, B; Mitchell, WM; Bastien, S; Peterson, D (1995), "Long Term Improvements in Patients with

Chronic Fatigue Syndrome

Treated with Ampligen", Journal of

Chronic Fatigue Syndrome

, 1 (1): 35-53, doi:10.1300/J092v01n01_04
↑ Peterson, Daniel L. (January 1997). "Chronic Fatigue Syndrome and Disability". Journal of

Chronic Fatigue Syndrome

. 3 (4): 5–7. doi:10.1300/j092v03n04_02. ISSN 1057-3321.
↑ Levine, Paul H.; Pilkington, Deborah; Strickland, Paula; Peterson, Daniel (2000), "

Chronic Fatigue Syndrome

and Cancer", Journal of

Chronic Fatigue Syndrome

, 7 (1): 29-38, doi:10.1300/J092v07n01_04
↑ Strickland, Paula S.; Levine, Paul H.; Peterson, Daniel L.; O'Brien, Karen; Fears, Thomas (January 2001). "Neuromyasthenia and Chronic Fatigue Syndrome (CFS) in Northern Nevada/California". Journal of

Chronic Fatigue Syndrome

. 9 (3–4): 3–14. doi:10.1300/j092v09n03_02. ISSN 1057-3321.
↑ Carruthers, Bruce M.; Jain, Anil Kumar; De Meirleir, Kenny L.; Peterson, Daniel L.; Klimas, Nancy G.; Lerner, A. Martin; Bested, Alison C.; Flor-Henry, Pierre; Joshi, Pradip; Powles, AC Peter; Sherkey, Jeffrey; van de Sande, Marjorie (January 2003). "Myalgic Encephalomyelitis/Chronic Fatigue Syndrome". Journal of

Chronic Fatigue Syndrome

. 11 (1): 7–115. doi:10.1300/j092v11n01_02. ISSN 1057-3321.
↑ Suhadolnik, Robert J.; Peterson, Daniel L.; Reichenbach, Nancy L.; Roen, Gail; Metzger, Melodie; McCahan, John; O'Brien, Karen; Welsch, Suzanne; Gabriel, Jerome; Gaughan, John P.; McGregor, Neil R. (2004). "Clinical and Biochemical Characteristics Differentiating Chronic Fatigue Syndrome from Major Depression and Healthy Control Populations: Relation to Dysfunction in the RNase L Pathway". Journal of

Chronic Fatigue Syndrome

. 12 (1): 5–35. doi:10.1300/J092v12n01_02.
↑ Alter, Harvey J.; Mikovits, Judy A.; Switzer, William M.; Ruscetti, Francis W.; Lo, Shyh-Ching; Klimas, Nancy; Komaroff, Anthony L.; Montoya, Jose G.; Bateman, Lucinda; Levine, Susan; Peterson, Daniel; Levin, Bruce; Hanson, Maureen R.; Genfi, Afia; Bhat, Meera; Zheng, HaoQiang; Wang, Richard; Li, Bingjie; Hung, Guo-Chiuan; Lee, Li Ling; Sameroff, Stephen; Heneine, Walid; Coffin, John; Hornig, Mady; Lipkin, W. Ian (2012), "A Multicenter Blinded Analysis Indicates No Association between

Chronic Fatigue Syndrome

/

Myalgic Encephalomyelitis

and either Xenotropic Murine Leukemia Virus-Related Virus or Polytropic Murine Leukemia Virus", mBio, 3 (5): e00266–12, doi:10.1128/mBio.00266-12
↑ Strayer, DR; Carter, WA; Stouch, BC; Stevens, SR; Bateman, L; Cimoch, PJ; Lapp, CW; Peterson, DL;

Chronic Fatigue Syndrome

AMP-516 Study Group; Mitchell, WM (2012), "A

double-blind

, placebo-controlled, randomized, clinical trial of the TLR-3

agonist

rintatolimod in severe cases of chronic fatigue syndrome.", PLoS One, 7 (3): e31334, doi:10.1371/journal.pone.0031334, PMID 22431963
↑ Irlbeck, David M.; Vernon, Suzanne D.; McCleary, K. Kimberly; Bateman, Lucinda; Klimas, Nancy G.; Lapp, Charles W.; Peterson, Daniel L.; Brown, James R.; Remlinger, Katja S.; Wilfret, David A.; Gerondelis, Peter (2014). "No association found between the detection of either xenotropic murine leukemia virus-related virus or polytropic murine leukemia virus and chronic fatigue syndrome in a blinded, multi-site, prospective study by the establishment and use of the SolveCFS BioBank". BMC Research Notes. 7: 461. doi:10.1186/1756-0500-7-461.
↑ Peterson, D; Brenu, EW; Gottschalk, G; Ramos, SB; Nguyen, T; Staines, D; Marshall-Gradisnik, S (2015), "

Cytokines

in the Cerebrospinal Fluids of Patients with

Chronic Fatigue Syndrome

/

Myalgic Encephalomyelitis

", Mediators of Inflammation, 2015, doi:10.1155/2015/929720
↑ Klimas, N.G.; Ironson, G.; Carter, A.; Balbin, E.; Bateman, L.; Felsenstein, D.; Levine, S.; Peterson, D.; Chiu, K.; Allen, A.; Cunningham, K.; Gottschalk, C.G.; Fletcher, M; Hornig, M.; Canning, C.; Komaroff, A.L. (2015), "Findings from a clinical and laboratory database developed for discovery of pathogenic mechanisms in myalgic encephalomyelitis/chronic fatigue syndrome", Fatigue: Biomedicine, Health & Behavior, 3 (2): 75-96, doi:10.1080/21641846.2015.1023652
↑ Bateman, L.; Darakjy, S.; Klimas, N.; Peterson, D.; Levine, S.M.; Allen, A.; Carlson, S.A.; Balbin, E.G.; Gottschalk, G.; March, D. (2015), "

Chronic fatigue syndrome

and co-morbid and consequent conditions: evidence from a multi-site clinical epidemiology study", Fatigue: Biomedicine, Health & Behavior, 3 (1): 1-15, doi:10.1080/21641846.2014.978109
↑ Hornig, M; Montoya, JG; Klimas, NG; Levine, SM; Felsenstein, D; Bateman, L; Peterson, DL; Gottschalk, CG; Schultz, AF; Che, X; Eddy, ML; Komaroff, AL; Lipkin, WI (2015). "Distinct plasma immune signatures in ME/CFS are present early in the course of illness". Science Advances. 1 (1). doi:10.1126/sciadv.1400121.
↑ Hornig, M; Gottschalk, G; Peterson, D; Knox, KK; Schultz, AF; Eddy, ML; Che, X; Lipkin, WI (2016), "

Cytokine

network analysis of cerebrospinal fluid in myalgic encephalomyelitis/chronic fatigue syndrome.", Molecular Psychiatry, 21 (2): 261-9, doi:10.1038/mp.2015.29
↑ Nagy-Szakal, Dorottya; Williams, Brent L.; Mishra, Nischay; Che, Xiaoyu; Lee, Bohyun; Bateman, Lucinda; Klimas, Nancy G.; Komaroff, Anthony L.; Levine, Susan; Montoya, Jose G.; Peterson, Daniel L.; Ramanan, Devi; Jain, Komal; Eddy, Meredith L.; Hornig, Mady; Lipkin, W. Ian (2017), "Fecal metagenomic profiles in subgroups of patients with myalgic encephalomyelitis/chronic fatigue syndrome",

Microbiome

, 5 (44), doi:10.1186/s40168-017-0261-y
↑ Unger, Elizabeth R.; Lin, Jin-Mann S.; Tian, Hao; Natelson, Benjamin H; Lange, Gudrun; Vu, Diana; Blate, Michelle; Klimas, Nancy G.; Balbin, Elizabeth G.; Bateman, Lucinda; Allen, Ali; Lapp, Charles W.; Springs, Wendy; Kogelnik, Andreas M.; Phan, Catrina C.; Danver, Joan; Podell, Richard N.; Fitzpatrick, Trisha; Peterson, Daniel L.; Gottschalk, C. Gunnar; Rajeevan, Mangalathu S.; MCAM Study Group (2017), "Multi-Site Clinical Assessment of

Myalgic Encephalomyelitis

/

Chronic Fatigue Syndrome

(MCAM): Design and Implementation of a Prospective/Retrospective Rolling Cohort Study.", American Journal of Epidemiology, 1–10, doi:10.1093/aje/kwx029
↑ Hornig, M; Gottschalk, G; Eddy, ML; Che, X; Ukaigwe, JE; Peterson, DL; Lipkin, WI (2017), "Immune network analysis of cerebrospinal fluid in myalgic encephalomyelitis/chronic fatigue syndrome with atypical and classical presentations", Translational Psychiatry, 7 (4), doi:10.1038/tp.2017.44
↑ Marshall-Gradisnik, Sonya; Fretel, Marshall; Eaton, Natalie; Cabanas, Helene; Balinas, Cassandra; Gopalan, Vinod; Petersen, Daniel; Passmore, Rachel; Tang, Kevin; Haque, Mazhar; Lam, Alfred; Staines, Donald (May 31, 2018). "Decreased Expression of TRPM3 and mAChRM3 in the Small Intestine in Chronic Fatigue Syndrome/Myalgic Encephalomyelitis". International Journal of Clinical Medicine. 09 (05): 467. doi:10.4236/ijcm.2018.95040.
↑ Nagy-Szakal, Dorottya; Barupal, Dinesh K.; Lee, Bohyun; Che, Xiaoyu; Williams, Brent L.; Kahn, Ellie J.R.; Ukaigwe, Joy E.; Bateman, Lucinda; Klimas, Nancy G.; Komaroff, Anthony L.; Levine, Susan; Montoya, Jose G.; Peterson, Daniel L.; Levin, Bruce; Hornig, Mady; Fiehn, Oliver; Lipkin, W. Ian (2018), "Insights into myalgic encephalomyelitis/chronic fatigue syndrome phenotypes through comprehensive metabolomics", Scientific Reports, 8 (1): 10056, doi:10.1038/s41598-018-28477-9
↑ Mandarano, Alexandra H.; Maya, Jessica; Giloteaux, Ludovic; Peterson, Daniel L.; Maynard, Marco; Gottschalk, C. Gunnar; Hanson, Maureen R.; Maureen Hanson (February 10, 2020). "Myalgic encephalomyelitis/chronic fatigue syndrome patients exhibit altered T cell metabolism and cytokine associations". Journal of Clinical Investigation. 130 (3): 1491–1505. doi:10.1172/jci132185.
↑ Avik, R; Gottschalk, Carl G; Peterson, Daniel; Knox, K; Maynard, M; Whelan, RJ (September 29, 2021). "Molecular evidence of autophagy impairment as serum level of ATG13 is elevated in patients with myalgic encephalomyelitis and chronic fatigue syndrome: two independent case-control studies". Researchsquare. doi:10.21203/rs.3.rs-925403/v1. Retrieved

November 5,

2022.
↑ Gottschalk, Carl G; Peterson, Daniel; Knox, Konstance; Maynard, Marco; Whelan, Ryan J.; Roy, Avik (May 1, 2022). "Elevated ATG13 in serum of patients with ME/CFS stimulates oxidative stress response in microglial cells via activation of receptor for advanced glycation end products (RAGE)". Molecular and Cellular Neuroscience. 120: 103731. doi:10.1016/j.mcn.2022.103731. ISSN 1044-7431.
↑ "IIMEC4". Invest in ME Research. Retrieved

February 4,

2020.
↑ "IIMEC7 International ME Conference 2012". Invest in ME Research. Retrieved

February 4,

2020.
↑ "IIMEC8 International ME Conference 2013". Invest in ME Research. Retrieved

February 4,

2020.
↑ CFS and the CDC's Failure to Respond: Primetime Live (1996), retrieved

February 4,

2020
↑ I Remember Me, retrieved

February 4,

2020